Welcome to the June newsletter. So much to dig into this month. Tips for small gardens with inspiring photos, comfrey plant profile, an update on my garden, garden therapy and what to plant this month.
Sustainable Gardening Tips for June
Firstly, these are a few easy ways to garden sustainably in small spaces. I've spent 13+ years helping people grow food in compact urban gardens. The smaller the space, the more important the decisions we make regarding design, plant varieties and functionality.
Give priority to your sunniest locations for fruiting crops and fruit trees. Fill in the gaps with plants that can tolerate shady conditions.
Group plants with similar water needs together. This saves time, a precious resource and avoids over- or under-watering problems.
If you have limited room, consider removing plants that don't serve you. Replace them with edible species that do!
Grow at least one pot of edible flowers in your favourite colour. Beautiful blooms make you feel happy, attract pollinators to improve your harvests and provide you with nutrients.
Use space wisely. Position tall and climbing plants at the back of a garden bed to protect and shade low-growing species.
Use vertical structures to access sunlight higher up. Boundary fences, railings and hanging baskets are a few opportunities.
Consider portable planters to give you more flexibility for accessing sun or shade seasonally. Container gardens on brackets and mobile trolleys are ideal solutions.
---
What to Plant Now in Subtropical SE QLD
In June, we experience cooler days and nights as winter sets in. We typically enjoy lower humidity and fewer pest insects as they overwinter. Yay! When there's rain we have almost perfect growing conditions with only a few regular pests to worry about like cabbage butterflies. It's the ideal time to plant winter crops and bare-rooted fruit varieties. Download your June Gardening Tips PDF for planting suggestions, tasks to do in the garden this month and issues to watch out for. 
I always aim to time my planting in harmony with the moon phases to optimise seed germination, help cuttings take root, and encourage healthy plant growth and establishment. There are also times each month to optimise the quick uptake of liquid nutrients. This helps plants access nutrition and get off to a good start. Working with Nature's timing and a Moon Calendar has distinct benefits. It helps me stay organised. I plan forward for the best times to take specific actions in my garden and reap the rewards. The natural cycles of energy and water that ebb and flow each month are there for us to tap into. Learn more here.
The Vegetables Growing Guide is a reference chart to help you grow 68 of the most popular vegetables in Australia and New Zealand climate zones. It includes information on companion planting, making compost, soil and moon planting. 
What to Plant Now in Other Locations
Click here for what to plant and when. Or visit Gardenate.com (USA, UK, Canada, New Zealand, Australia and South Africa)
---
PLANT PROFILE:

Comfrey
Comfrey (Symphytum Officinale) is a flowering medicinal perennial herb with a deep tap root and attractive foliage and blooms. 'Comfrey' comes from Latin and means "to grow together". Makes sense it is also known as 'Knitbone', 'All Heal' and 'Woundwort'. Comfrey grows year-round in most climates and is one of the most valuable plants you can grow.
Common comfrey has so many uses I can't imagine my garden without it. The most popular way to grow it is from small root cuttings (even the tiniest piece) and crown division. It also grows from seed. Make sure you plant it in a permanent position though or a pot as it will be very difficult to dig out after it matures and can self-sow. Comfrey is one of the 72 herbs covered in the Herb and Medicinal Plants Growing Guide.
Comfrey Uses:
This is just a VERY brief glimpse into comfrey as it is highly valued as a medicinal healing herb. It is also incredibly useful to support the healthy growth of other plants.
Use leaves as medicine – a poultice, applied topically has been used since 400 BC to heal many ailments including burns, broken bones, bruising, tissue damage and arthritis. See How Can I Use Herbs in My Daily Life for 8 pages of information on this and 500+ herbs. It's my go-to herb bible!
Comfrey roots gather potassium and other minerals from deep in the subsoil. So this plant is ideal to fertilise flowering and fruiting crops like tomatoes and potassium-hungry potatoes.
In situ fertiliser. Chop and drop leaves and stems around plants as a nutrient-rich mulch.
Comfrey tea. Add to water and allow to steep for several weeks. Dilute and use around plants as a liquid fertiliser. Watch them grow!
Compost activator and dynamic accumulator. Chop leaves and add to compost systems and worm farms to release nutrients.
Poultry forage rich in protein, calcium and phosphorous.
Cooked leafy green like spinach, or enjoy in salads, juice, soups, casseroles and stuffing.
Comfrey Likes:
Seeds typically germinate in about 25-30 days at a soil temperature of 20-22°C. Best sown in the new moon phase.
At least 3 hours of sun or shade and soil pH 6.0 to 7.0. Enjoys protection from hot summer sun.
Aged manure releases nitrogen for quick leaf growth.
Thrives in moist, fertile, well-drained soil but tolerates poor soils and can help break up clay.
Regular moisture until established but will tolerate dry conditions when mature.
Comfrey Dislikes: 
Can die back in cold weather. Prune and use leaves at the end of autumn or in winter if this occurs.
Thin soils over rock.
---
What's Been Happening in My Garden?
May was very dry so I did a LOT of watering and mulching. It was a busy month of sowing more peas, tomatoes, zucchini, garlic, leeks, onions, shallots, celery, broccolini and cabbage. A few pumpkin vines are still hanging in there with fruit maturing. To my delight, I discovered several butternut pumpkins hidden under vines I never planted! Who knows how they get there? I just love surprises in the garden. It's been a tough few months for pumpkins and arrowroot. They certainly need a lot of water to thrive. So I've been watching their needs in this soil and working on strategies for going forward. Staple plants deserve support. I've harvested well over 100kg of pumpkins this season and had plenty to share. They store well so I have enough to last until spring planting time.
Lettuce, sorrel, rocket and spinach are keeping us busy in the kitchen making salads and cooked meals to use up the leafy greens. I'm out daily picking raw ingredients and edible flowers like nasturtiums, cosmos and herb blooms to add colour, nutrients and flavour to salads. Pawpaw fruits are growing well. Our mandarin and lime trees are loaded with fruit. Two of the mandarins didn't get watered except sparsely by nature. Consequently, the fruit is smaller this year and I'm in awe of the abundance. Clay soils have their benefits! I'm incredibly grateful the citrus have valiantly produced a full crop, despite the hard times. It's a testament to the miracle of mulch to lock in moisture and help trees during times of stress. Mulch is a vital strategy for every garden.
The tropical nectarines and peach trees are still flowering and setting fruit in the orchard zone. My next job is to bag them as fruit flies are a major threat. I've also been underplanting them with flowers and comfrey. Nature provides us with citrus fruits high in Vitamin C, garlic, turmeric and ginger just when we need them most – in winter. I grate my turmeric and ginger and squeeze lime juice. Then freeze in portion-sized ice cube trays ready to pop into drinks and meals.
I've started to plant out the new terrace garden bed. This level will give me more space for larger vegetables like zucchinis and the cabbage family. Next, I will also be planting perennial and annual flowers and herbs, and more dwarf fruit trees. Later this month, the drip irrigation system should be installed. Hopefully, another tick off the list to save time and water efficiently.
My Garden Projects
I've repurposed an old wheelbarrow as a planter and have another two as future projects. At the moment, this frame is rusted but still has plenty of life in it yet. I drilled holes in the base and added nutrient-rich homemade potting mix. I sowed coriander, broccolini, sweet basil, garlic chives, yarrow and edible flowers like nasturtiums, lobelia and portulacas. These blooms will trail over the edges and the depth is ideal for these herb and vegetable varieties. However, as you can see, the nasturtiums have been spoiled rotten with this nutrient-rich soil. So, they will be transplanted into my new terrace garden as companion plants! This is a full sun position and ideal to keep basil growing over our winter protected by the perennials below (holy/sacred/tulsi basil in flower and citronella geranium). Every plant plays at least two beneficial functions and earns their space!
I've also added compost, nutrients, liquid fertilisers and mulch to refresh raised gardens. It's good practice before planting each season to revitalise old potting mix and add fresh inputs to build healthy soil. There are always little 5-minute tasks to do like staking or tying some plants up. Other jobs include harvesting, pruning, sowing seeds or cuttings, transplanting, bagging and general maintenance. The worm farm and compost bins get twice-weekly top-ups of kitchen waste that cycle nutrients back into the garden. A closed-loop system. Nature doesn't need a rubbish dump. With considerate choices, nor should we!
---
Garden Therapy Time
There's always a mountain of projects. I'm sure my gardening to-do list is never-ending! However, one of the most important things is to spend time IN the garden for joy. We don't need to always be working ON the garden! Put the list aside and just stop for a few quiet moments.
A question worth reflecting on: "Is your garden sustain-ABLE?" Are you able to sustain what you've planted? Or is it just too much work? Are you becoming a slave to your dream garden? Poor design or plant choices without a plan that suits ALL your needs can sometimes cause you to put a lot of time and energy in for little reward. It can be very beneficial to stop and have a reality check. There's nothing wrong with pulling back, slowing down or taking a break. Plants are very forgiving! Lighten your load if you need to. Our gardens ebb and flow with our health, time, energy and resources.
"There is a time for everything, and a season for every activity under the heavens … a time to plant and a time to uproot, a time to keep and a time to throw away …" – Eccl 3
There's a time for doing and a time to pause. For instance, I often just sit and reflect. I observe. I think and often get my 'ah-ha!' moments in these quiet times. I pivot and adjust my design. I look at which plants do well without my interaction or support. And those that need lots of TLC! There are always humbling learning opportunities if you just listen to the garden's whispers!
Since a garden is so good for mental and physical health, gift yourself time. Forget about feeling overwhelmed or frustrated, and just 'be'. Sit quietly and reflect on the things you love about your garden. Then, make a list of what bothers you most. It may be time to let go of some plants. Recycle them into compost so they are still with you providing a benefit and move forward. You don't need to create the 'perfect' garden. One that meets your unique needs – that you can sustain – IS perfect!
"Do the best you can until you know better. When you know better you do better." – Maya Angelou
---
Small Space Garden Design Tips
In tight spaces, I am a BIG fan of growing vertically using a variety of strategies. These are a few ideas.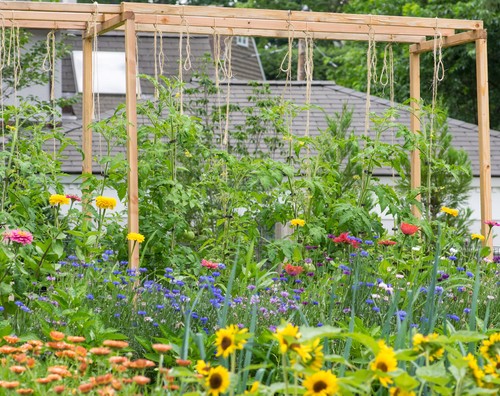 Attach string vertically to train tomatoes as they grow to maximise space, sunshine and airflow.
---
QLD Garden Expo
This year's fabulous garden event is on 7-9 July at the Nambour Showgrounds on the Sunshine Coast, Queensland. If you haven't had this event on your radar, it's worth planning for and attending. This is my 11th year of speaking at this event and I'm looking forward to joining the presenters from the Gardening Australia team and many others. If you love free gardening advice, there are three days with 120 talks. This year, I'll be speaking in the Giant Kitchen Garden on Sunday morning on 'Growing a Food Garden for Health and Medicine'. Check out the Speaker Program for more information. I'd love to meet you and have a chat.
---
Shop Gardening Guides and Resources
Use Coupon Code: 10%OFF during checkout to save 10% on all gardening guides and books.
Your results will likely vary if you are still taking potluck and sowing at any time! Some plants might thrive while others fail, bolt to seed, wither or seeds never germinate. Adjusting the timing can make the difference between a productive garden and a frustrating one. It may help to learn more about the benefits of moon gardening. You'll wish you'd done it sooner!
Resources for Small Space Gardens
These are a few articles to dig into:
---
Dig into my free online Article Library for more topics
Click here to VIEW ALL ARTICLES
---
Want more inspiring ideas?
Each week I share photos and videos of what I'm growing, harvesting and eating from my garden and the ways I use my homegrown food. Follow me for more tips and inspiration in between newsletters.
I look forward to sharing more news and ways to grow good health next month.
Happy gardening!
Anne
---
Like this article?
Please share and encourage your friends to join my free Newsletter for exclusive insights, tips and all future articles.
© Copyright Anne Gibson, The Micro Gardener 2023. https://themicrogardener.com. All rights reserved.
Some links within this newsletter may be affiliate links. I only recommend products or services I use personally or believe will add value to my readers. If you purchase a product via an affiliate link, I will earn a small commission (and I mean REALLY small)! There is no additional cost to you. It's a way you can support my site, so it's a win-win for both of us. You directly support my ability to continue bringing you original, inspiring and educational content to help benefit your health. Thanks! Please read my Disclosure Statement for more details.