Want to learn some practical skills and tips for making the most of your garden space? Then come along to one of my workshops, talks or garden coaching sessions and get some great ideas!  Or book one for your community garden, library, school, event or organisation.
Getting hands-on is the best way to learn – here's a sneak peek from a recent video sharing a few of my tips on container gardening:
Recent & Upcoming Events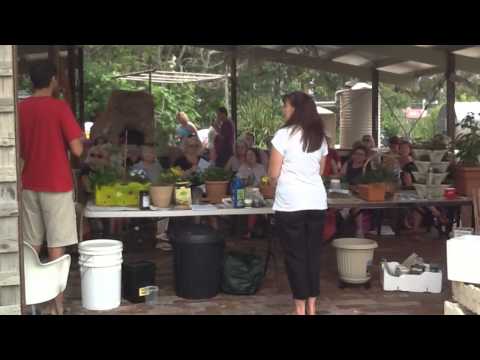 Sunday 1 November @ 9.30am – 3pm – Conscious Life Festival. Potting up seedlings activities with kids and a workshop on 'Easy Low Cost Edible Gardens for Busy People'. Lake Kawana Events  Centre, 114 Sportsman Parade, Bokarina, Sunshine Coast. See the program for more details.
Sunday 8 November @ 9.00am – 11.00am – 'Seed Saving' – Sunshine Coast Seedsavers Group, Buddina Community Garden, Nanyima Street, Buddina.
Saturday 14 November @ 2.00pm – 6.00pm – Free mini workshops on edible gardening + seedlings to pot up and take home. Family Fun Day. Arts & Ecology Centre, Maroochy Regional Botanic Gardens, 33 Palm Creek Rd, Tanawha.
Workshop Topics
I present workshops on a wide range of topics for Permaculture, community gardens, groups, garden clubs, local libraries, schools and home gardeners including:
"Balcony, Container & Small Gardens" – Micro gardening in the city: How to grow incredible edible gardens indoors and out. Learn how to make wise use of space and resources; choose plants that meet your needs; and the special requirements of small gardens – fertilising, watering and maintenance.
"Gardening with Children" – workshops on a variety of topics including recycling, Christmas, garden-in-a-box, planting seeds & seedlings and sensory gardens.
"Upcycled Planters" – creative ways to reuse and recycle containers & everyday items as micro gardens.
"Frugal Gardening – How to Grow More for Less" – learn how to: Develop a toolkit of resources and strategies to grow a highly productive edible garden without expensive inputs; Make and grow your own garden supplies; Grow plants that earn their place in the garden by providing high value (save or make you money; are multi-functional; long lasting and tummy fillers);  and Make your own (MYO) fertilisers from household waste and free or low cost resources.
"Designing Beautiful Balconies and Gorgeous Gardens" – design tips and principles for creating an attractive, edible, fragrant and multi-functional sanctuary no matter how big or small your space is.
"Organic Gardening for Beginners" – the basics of getting started, simple steps to creating your first garden and how to maintain it.
"Pest and Disease Management" – strategies for working with nature and easy organic solutions for common pest and disease problems in your garden.
Workshops can include practical hands-on sessions, take home samples and notes.
Contact me for a quote or tailor made workshop to suit your community group, event, organisation or audience.
I also provide one-on-one consultations and garden coaching for individuals and families and gift certificates.
Some Feedback from Participants …
"Your ideas and concepts were quite amazing and so simple and easy to do."
"Informative, sustainable, efficient ideas for a better world."
"Fantastic facilitator, really useful and practical advice, excellent teaching approach. Thank you so much!"
"Very interesting and inspiring. Very 'DO'able."
"Very practical, great ideas – well presented."
"The workshop was fantastic.  It was interactive, very informative and covered a broad range of topics."
"One of the best I've heard."
"Brilliant…so much good info, presented in a fun & interesting way, will enjoy the notes."
"Friendly, informative accessible information.  Good range of topics, a valuable couple of hours."
"Wonderful display, Anne had so much to offer the gardener in small spaces."
"Awesome!! This was brilliant – do this more often!"
"I will be heading straight to the shops to purchase a box to start my garden – thank you!"
"Very good presentation, hands on approach, very good detailed handouts (workbook)."
"Great, very practical examples."
"Very knowledgeable presenter – great work."
"Great tips, easy to understand."
"Inspirational, easy to follow – I loved it!"
"Very insightful and loved the practical side."
"Very interesting. Good tips! And good to see and feel the goodies!"



Workshops are 'hands-on' so participants learn by 'doing' as well as a wide range of interactive displays and props.  You are encouraged to smell, taste, touch and get inspired with the materials.  There's no getting too comfy in your seat at my workshops – I encourage active participation for maximum learning outcomes. Participants learn how to design productive, beautiful, fragrant and multi-functional gardens in small spaces.
Design skills, how to use free and local low-cost resources and frugal gardening practices are all part of the content.
Some of the hands-on activities can include:
Learning how to save money by making your own free fertilisers from everyday resources that would otherwise end up in landfill or the rubbish bin.
How to make your own potting mix and an understanding of the benefits of the various 'ingredients'.
How to make a useful tepee from renewable resources in just a minute.  The tepee is demonstrated on how it can be used in micro gardens to maximise use of vertical space.
Other demonstrations include how to make your own container wicking bed to save watering, a bokashi bin and mini compost and worm farm systems that suit small spaces, seed saving and propagating skills.
There are also a wide range of products and ideas on display to inspire you to go home and get started!
If you have children and would like to get them inspired to start their mini garden in a box, they are welcome to come along too!
Check back again soon for next workshop/event dates or email me for more information.
Happy planting.
Anne
© Copyright Anne Gibson, The Micro Gardener 2011-2013 – http://www.themicrogardener.com. All rights reserved.
13 Responses to "Workshops & Talks"
Leave a Reply